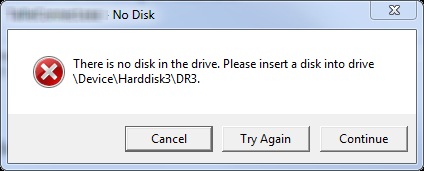 This QuickBooks Message is related to a media device plugged into the computer while QuickBooks is running.
Removable hard disk drives
USB Multi-Card Readers
MP3 player or a cell phone
Floppy disk drives
If the device is still plugged in when QuickBooks is closed, when you re-open QuickBooks it will look for the device.
Options to fix error:
Plug the device (or any device) into the drive and QuickBooks should open
Remap the drive in which QuickBooks is looking for the device
Reboot your computer
To prevent issue safely remove any additional removable disk drives and / or CDs before closing in QuickBooks.
Related Articles:
EverLogic to QuickBooks Flow Chart
QuickBooks Error: Trouble Connecting to QuickBooks
QuickBooks Error: QuickBooks Online Access Token
QuickBooks Error: QB Desktop Request