The Parts Inventory (PI) map code is a feature for Cycle Count or manual parts adjustments which requires a Cost Of Goods Sold (COGS) to be entered on the line item.
Error message: No Debit Item - You have not set up a Debit Item for you part adjustment either on the Part Category or the PI Map Code. Please add one.
1. Navigate to the Office Operations Tab and select Set Map Codes

2. Open Found Where: Parts and Service
3. Click PI to select Parts Inventory
4. Key the Asset and COGS Item
5. Click OK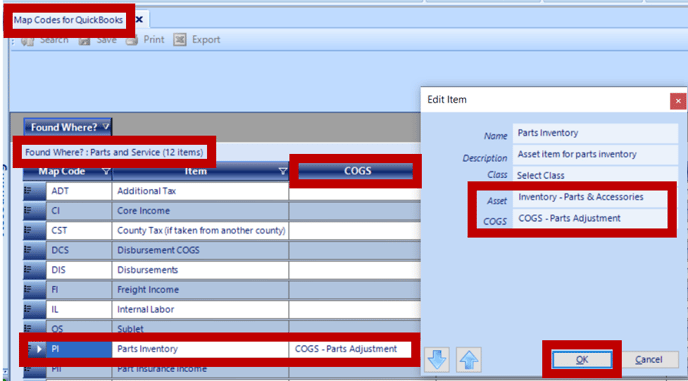 6. Save

NOTE: The screen below from QuickBooks shows the suggested mapping to use. Please consult your Accountant regarding where to send these adjustments to best suit your business needs.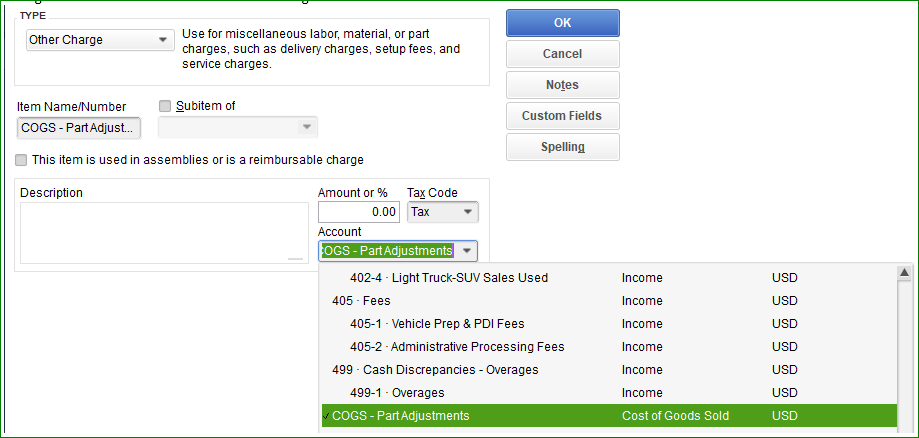 Related Articles:
EverLogic to QuickBooks Flow Chart
QuickBooks Error: Trouble Connecting to QuickBooks
QuickBooks Error: QuickBooks Online Access Token
QuickBooks Error: QB Desktop Request
Mapping from EverLogic to QuickBooks
Adding a New Part / New Part Inventory
Part Categories: Item Level Mapping
CJ