Many warranties have a deductible, so it becomes necessary to be able to take those payments from the Consumer via Retail Payment Types; ie Cash, Credit Card or Check.
1. Navigate to the the System Setup Tab and select System Rules

2. Locate the WPmtType Rule and double-click to open

3. Key the desired Answer
Zero (0) - By default this Rule is set to 0, which is off, and will not allow Retail Payment Types.
One (1) - Set the answer to 1 to enable Retail Payment Types.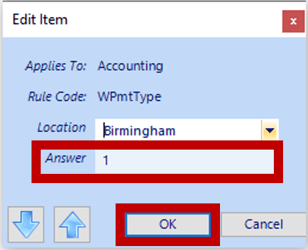 4. Click OK
5. Save

IMPORTANT: Two warranty companies cannot be billed on the same RO, create separate ROs for each warranty company.
NOTE: By default, deposits on a Multi-type RO will go on the retail portion and warranty company deposits will go on the warranty portion. Reason being when the deposits and Repair Order goes to QuickBooks they need to be under the same name to be auto-applied.
Basic Related Articles:
Allow Retail Payment Types on a Warranty Repair Order
Sale of an Extended Warranty for a Unit Previously Purchased at the Dealership
Sale of an Extended Warranty for a Unit NOT Previously Purchased at the Dealership
M