1. Navigate to the Parts & Service Tab and select New Part PO

2. Click to select
Vendor: Hit Enter or Tab Key to display the Phone / Fax Number for the Vendor selected, (required)

Status: EverLogic will auto-populate as "Pending"

Department: not required
Ship Terms: not required
Order Placed: Double-click to display current date and time, (required)
Non-Parts PO: Used to order office supplies, furniture, etc
NOTE: EverLogic assigns the PO# and PO Date, after you save the PO. The PO Number will be sequential from the last one you entered.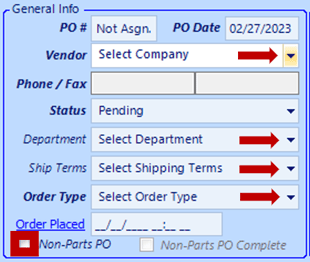 3. Complete the following sections, not required
Shipping Info
PO Payment Info
Memo: not private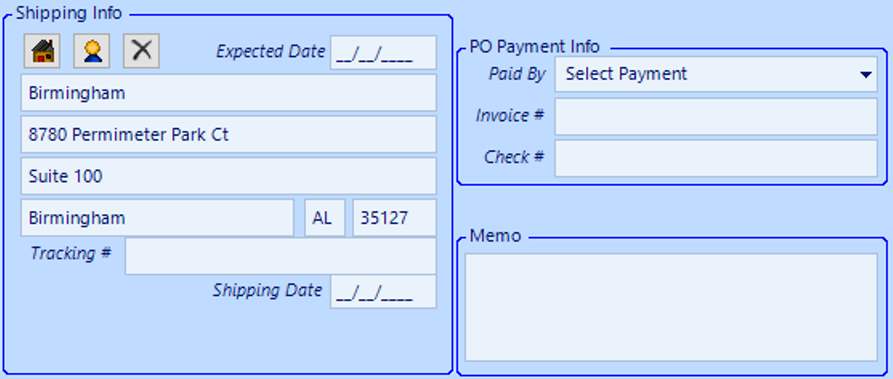 4. Key the UPC, Part# or Description
5. Click the down-drop arrow, to search from Inventory listed in the drop-down menu
6. Double-click to select the Part
7. Hit the Enter or Tab Key to display the Part in the Parts Box below

8. Key the UPC, Part# or Description
9. Hit the Enter Key to order part from a catalog, Search / Order Parts from a Parts Catalog
10.

11. Click the button to Add Part From Catalog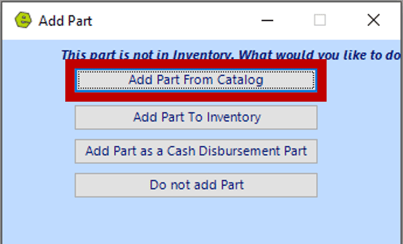 12.Search to locate the part
13. Double-click to select the part

14. Select Bin
15. Select Category
16. Create Core, when necessary
17. Click OK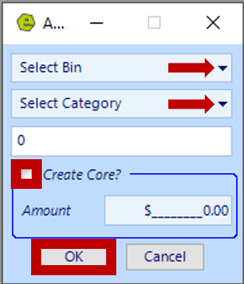 18. Scroll to the right to manipulate the figures;
Quantity
Cost
Selling Price
Freight
Discount

NOTE: The part will display ion the Parts Box and the Totals will display at the bottom.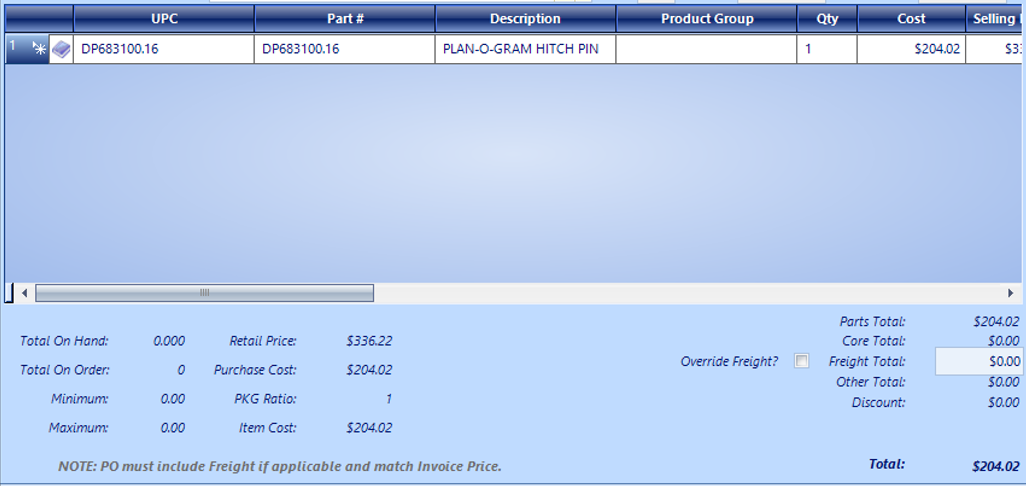 NOTE: You can remove an item, by right-clicking on the line you wish to remove.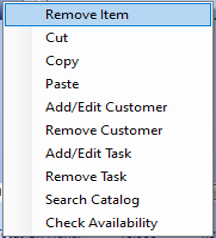 19. Save

NOTE: Use the "Send PO to Vendor" Option from the toolbar. It will show in red, in the Shipping Info Section.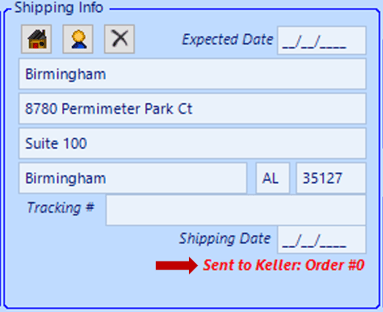 Related Articles:
Adding a New Part / New Part Inventory
Creating a Parts Purchase Order
List Unposted POs (Purchase Orders)
Receiving a Purchase Order and Creating a Back Order PO
Using Suggested Reordering to Create a Purchase Order
New Vehicle Purchase Order Form (Multi-Unit Ordering)
Where is my Purchase Order in QuickBooks?