When you sign onto EverLogic, Parts are downloaded and stored in your local cache. If another employee is adding new parts to inventory you can immediately recognize and obtain access to these parts.
1. Navigate to the Parts & Service Tab
2. Click Refresh Parts

NOTE: This takes a few seconds, and when completed you will get a message box.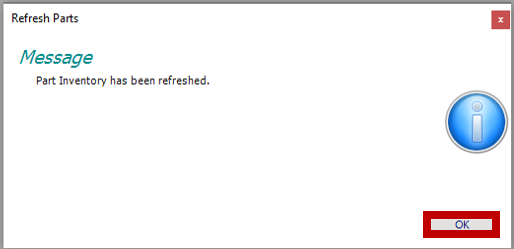 Related Articles:
System Setup for Alternate Part Numbers
Adding a New Part / New Part Inventory
Adding Parts to Inventory from a Invoice / Repair Order
Creating a Parts Purchase Order
Special Order Parts from an Invoice
Special Order Parts from a Repair Order
Receiving a Purchase Order and Creating a Back Order PO
Create / Close a Parts Invoice
Asterisk Showing on Parts Search
Parts Price Comparison Feature (Profit Margin Formula)