Alerts can be added to the Customer Information Form. The Alerts allow communication between departments, on the Customer Record. These alerts can be seen Invoice and Repair Order. This Alert is not private or public and is not printable.
1. Click the Flag Icon to add an Alert Message

Credit Limit Alert shows Credit Limit and Open Balance, along with an "As of" date / time.
Other Alert will indicate an Alert Security with a flag color, along with an Alert Message. This alert note does not show in print, it is not private or public, it only shows on this screen.

blue = information
yellow = advisory
orange = warning
red = alert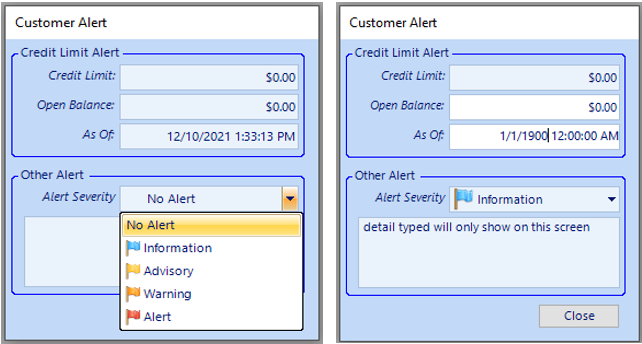 Related Articles:
Customer Association "Co-Customer"
How to Locate / Re-activate a Deleted Customer
Create Customer Prospecting Statuses
Using Customer Prospecting Statuses
Moving a Deposit Between Customer Accounts
Update Customer's Address Zip Code, using the "plus-four code"
Customer Follow-Up Reminders Set-up
Changing Customer Prospecting Statuses Follow-up Timelines